Brighter SMiles to celebrate the best memories
Teeth whitening is the most requested cosmetic procedure. Whitening your teeth is a simple way to improve the appearance of your smile.
Our whitening treatments oxidize the enamel of your teeth removing stubborn stains. We offer patients two high tech options for a brighter smile. 
If you need immediate results we often recommend  Sinsational Smile or ZOOM.  Both are in-office whitening treatments that take an hour or less. 
For a more gradual result we provide custom, take-home, whitening kits. We only use professional brands exclusive to dental care providers.

With the ZOOM system, we use a high powered, whitening solution and a patented light system to whiten your teeth up to 10 shades in about an hour. When administered by our expertly trained care team, ZOOM's state-of-the-art system quickly removes enamel stains. ZOOM is a fast, effective and safe way to brighten your smile.
ZOOM works best for patients who have little or no dental work on front teeth. ZOOM only whitens tooth enamel. Unfortunately, Tetracycline stained teeth, porcelain and composite materials will not whiten or become more brilliant with ZOOM. The only way to whiten tooth-colored materials is to replace them. Of course, we can help with that too.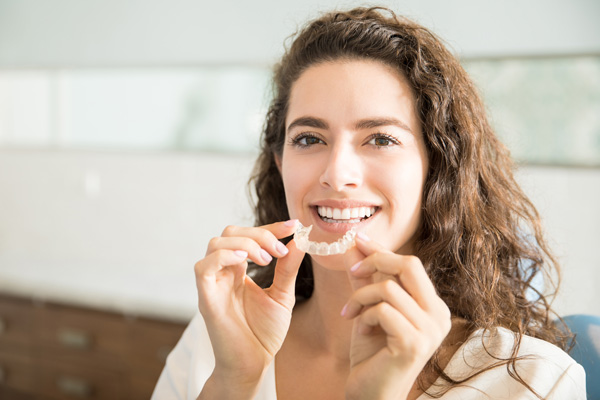 If you would rather whiten your teeth subtly and over time, using a professional gel and tray system is your best option. Our customized whitening trays are molded to fit your mouth perfectly, so that the whitening solution can fill in the area around and between each tooth. Our whitening gel is professional strength so you will be able to whiten rather quickly.
As with ZOOM, the gel and tray system cannot whiten Tetracycline stained teeth, porcelain or composite. The gel and tray system is a great way to whiten your teeth and keep your smile bright for years to come. It is an especially wonderful option for people with healthy smiles, who are interested in improving tooth color.
Overall, whitening is an affordable, fast and easy way to create a younger looking, fresh, clean smile. We are always excited to see what a big difference this subtle change can make. Patients often return with stories about new found confidence and joy.  
Before selecting which whitening option is right for you, we encourage you to read on, think about it and call our care team with questions at 831-372-8011. We are here to provide you with excellent solutions for your smile and world class service.  
Office Hours: Monday-Thursday, 8am-5pm
Location: 660 Camino Aguajito #201
Monterey, California 93940